10Q Live NYC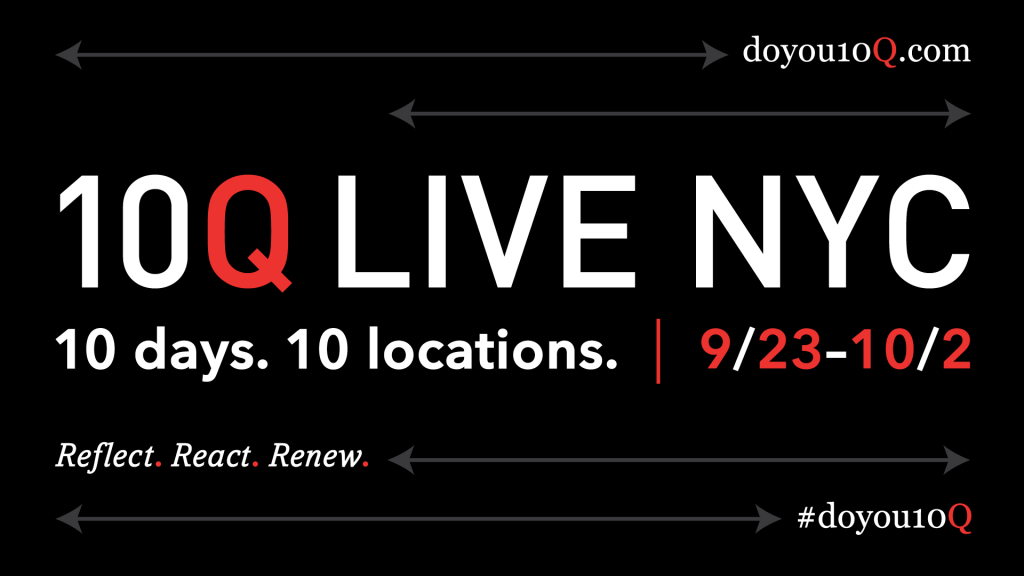 NYC, it's time to introduce a little you-time during your daily grind.
10Q Live is a 10-day interactive installation designed to place self-reflection and peace of mind at the forefront of your daily routine.
Inspired by 10Q, an initiative created to help introduce reflection in a 10-day period, 10Q Live offers you a chance to look back on the past year and year ahead in real time.
Engage, interact, and experience a moment of introspection away from your daily grind. Housed within a pop-up exhibit that changes locations around the city daily, this experience is both personal and shared, as it lives and breathes with the rhythm of New York City.
10Q Live embraces and welcomes people of all ages and backgrounds.
Locations will be released days leading up to each event so stay tuned!
React. Reflect. Renew.
Visit www.doyou10Q.com for more details.
#doyou10Q
Ctrl + Alt + Del: Tashlique at Ocean Beach
5 p.m. – 7 p.m.
Monday, Oct. 3, 2016
Ocean Beach near Fulton (across from Beach Chalet)
FREE
https://www.facebook.com/events/747403938734584/
Reset your system with our modern spin on a 600-year-old Rosh Hashanah ritual called tashlich. This custom of ridding ourselves of all our bad vuggum (karma) from the previous year and getting a fresh start for the new one is traditionally enacted by tossing bread into the ocean. Join us by the shore at Ocean Beach (near Fulton) for a brief, engaging ritual and joyful noise accompaniment from shofar blowers, bag pipers, members of the Jazz Mafia and the Ministers of Sound of the Saint John Will-I-Am Coltrane African Orthodox Church. Bring stale bread to share and a shofar, if you have one, to blow along with some of San Francisco's finest players. Enjoy our twist on the traditional sweet with s'mores roasted over a bonfire.
Tashlique presented by the JCCSF and Reboot with community partners Big Tent Judaism Concierge for Solo Moms, Birthright of the Jewish Federation, The Brandeis School of San Francisco, Congregation Beth Sholom, Congregation B'nai Emunah, InterfaithFamily Bay Area, JIMENA, Keshet, The Kitchen, Moishe House San Francisco, the Young Adult Division (YAD) of the Jewish Federation, and the Yeashore Community.
With deep appreciation to the Koret Foundation, the Jim Joseph Foundation, the Bernard Osher Jewish Philanthropies Foundation of the Jewish Community Federation and Endowment Fund and the Alexander M. and June L. Maisin Foundation of the Jewish Community Federation and Endowment Fund for supporting Reboot programs throughout the year.
Join the JCC of San Francisco for a Rosh Hashanah Pop-up and Shabbat
Write your reflections on the 10Q Graffiti Wall.
Friday, Sept. 30, 2016
11:30 a.m. -2:30 p.m. Pop-up
3 p.m. Shabbat
Stop by for a taste of honey and participate in tashlikh, an opportunity to reflect and then release personal regrets from the past year. Write your reflections on the Reboot 10Q Graffiti Wall. This drop-in event includes New Year card decorating, for spreading well wishes around the community, and candle-making so you can incorporate a handmade item into your High Holiday traditions. At 3 p.m., in honor of the coming Shabbat, we will gather in the JCCSF's Atrium to sing and offer gratitude, share stories and schmooze over grape juice and challah.
Free • All are welcome
https://www.jccsf.org/the-center/holiday-events/rosh-hashanah/rosh-hashanah-pop-up/
Discover more events near you here!